More than 400 years ago, we chose San Sebastián as our pattern and the have protected and supported us during all this time. We owe San Sebastian a lot. Therefore, we had no doubt when our neighbours suggested us to create a cooperative together and decided to honour them with its name.
It was in 1955 when the elderly decided to create the cooperative named San Sebastían. Their main goal was to succeed and to be able to transform the results of their work into a better product.
Nowadays, all of us who belong to the cooperative know that we owe them everything.
It is now time to work hard for ourselves, for our families and for those who are to come. For a successful future. Always keeping the same hope and effort that our neighbours had when they joined to found the cooperative.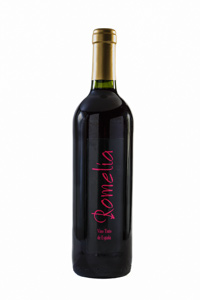 Strong red with ripe cherry rim. Fresh wine, great aromatic intensity, red fruits aroma. Flavourful, fresh and meaty. Round and well balanced.
---